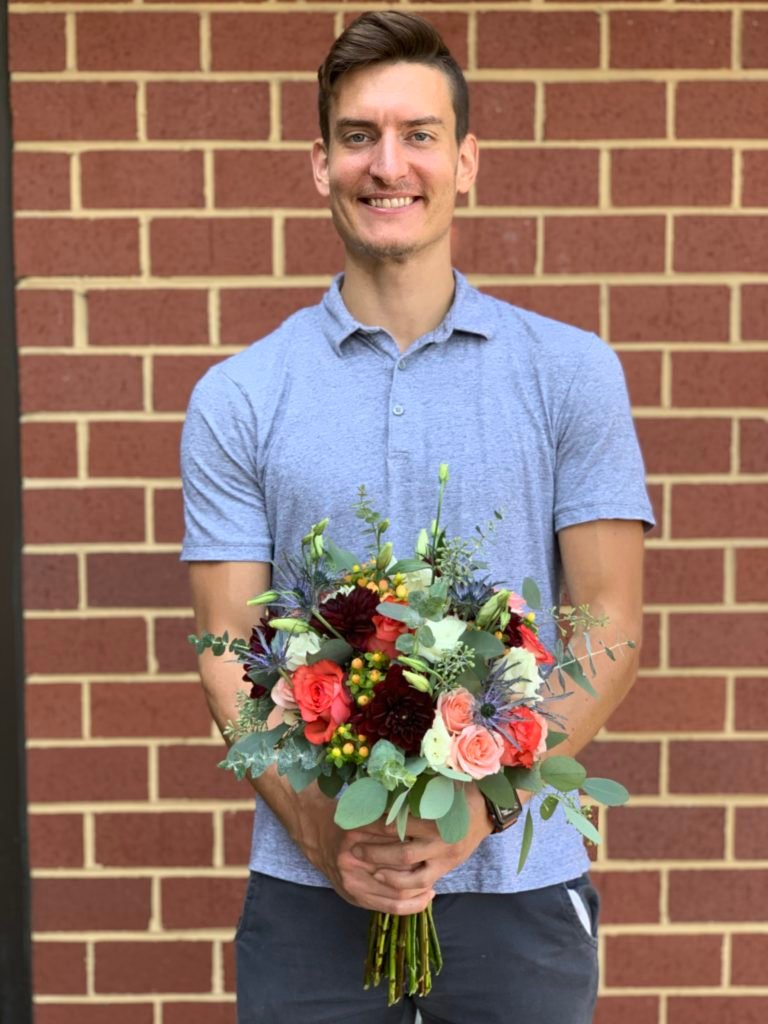 Business Owner – Trevor Whalley
With over 30 years of floral design experience, Fantasy Floral Florist & Flower Delivery is family owned and operated–offering a blend of creativity and artistic ability unmatched by any other flower specialist in the area. We do floral designs for all occasions including holidays, presentation bouquets, anniversaries, birthdays, baby showers, get-well, funerals, weddings, corporate events, high school dances, and much more.
Our Floral Shop in Fairfax VA arrangements have been showcased throughout the Washington DC metropolitan area. We have designed arrangements for special guests at many luxury hotels such as The Mandarin Oriental Hotel, The Sofitel Hotel, The Hay-Adams Hotel, and The Westfields and JW Marriots. Additionally, organizations that hold events at the Kennedy Center have contracted us to decorate the stage and provide presentation bouquets for the amazing artists after the performance. Any given day, one can find our arrangements ready-to-order at the INOVA Fair Oaks and Reston Hospital gift shops. We have also had contracts to deliver flowers weekly in order to help create an uplifting atmosphere in large businesses such as the Pohanka Acura dealer of Chantilly (#1 rated Acura dealer in the nation).
Our flowers have also been featured in weddings at wineries, golf clubs, and hotels all over the Metropolitan area such as:
The JW and Westfields Marriotts, the Meadowlark Botanical Gardens, the Trump National Golf Club, Westfields Golf Club, Lansdowne Resort and Spa, The Hay-Adams Hotel, The Mandarin Oriental Hotel, The Sofitel Hotel, Chantilly National Golf and County Club, Morais Vineyards, the Hyatt Regency Dulles, Trummer's On Main, the Whitehall Estate, the Tysons, Pentagon, and Georgetown Ritz-Carltons, the McLean and Washington DC Hiltons, The City Club of Washington DC, and many more.
Our goal as a floral team is to design, deliver, and present the freshest and finest arrangements in a quick and professional manner. We receive flowers daily sourcing locally and internationally, directly from farms and the areas biggest wholesalers, and only accept the freshest and highest quality blooms. From there our designers' desire for perfection creates the most stunning floral and gift designs this area has to offer. To finish, our drivers and dispatchers provide top notch customer service by making sure the flowers are transported securely so the flowers look the same when they reach the recipient as they did when they left the shop, by making sure someone is available to accept the flowers or to get permission to leave them, and by providing an email or text delivery confirmation to the sender with a picture when requested.
We proudly serve the greater Northern Virginia area including all of Fairfax county and parts of Loudoun County, Prince William County, Arlington County, and DC. Please call or email us today for any inquiries and feel free to place an order online for delivery or pick-up of your own Fantasy Flowers!
Phone: (703) 830-7611
Email: fantasyfloralva@gmail.com