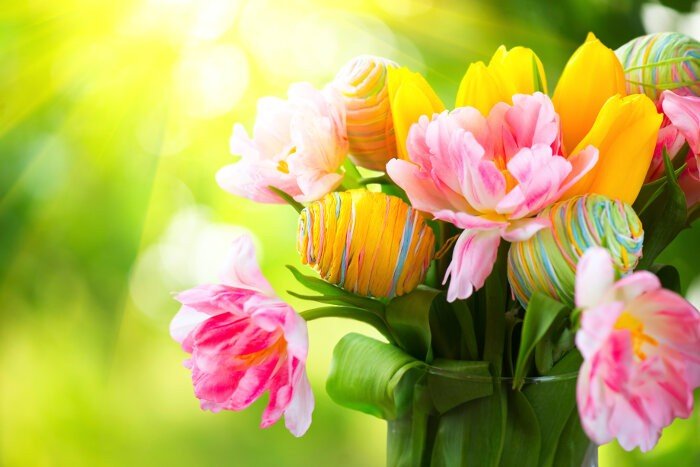 Easter Flowers
Paragraph 
In Your Easter Bonnet
In Your Easter Bonnet
My great grandmother lived with us for the last half of my childhood. She was born in 1893 and saw transportation go from horse and buggy, to Model T, to airplanes, to launching into space, and landing on the moon. She was also quite the rebel–eloping on the back of her boyfriend's motorcycle wearing leather pants! *gasp* But that's a story for another time. Grammy Doy was from that generation of women who had matching hats and gloves and shoes for each outfit. Easter was the day to wear one's finest. It was also a day for fresh flower corsages and even Easter flowers in one's hat!
With All the Frills Upon It
Easter. Flowers. The two just go together for me! When I was growing up, the green apple tree in our front yard and the huge forsythia bush out back were always wearing their finest blooms on Easter. My brother and I hunted for eggs amongst the many clusters of yellow daffodils and purple grape hydrangea in our yard. And there was always a beautiful centerpiece on the Easter dinner table with flowers that matched the colorful hues we used to dye our Easter eggs.
You'll be the Grandest Lady
As we celebrate spiritual rebirth and renewal on Easter, Mother Nature is doing her own version of rebirth and renewal. Grass goes from dull brown to emerald green, providing a perfect canvas for Easter Flowers. What are Easter Flowers you ask? For me, they are those flowers that bloom first, even through blankets of snow–tulips, daffodils, hyacinth, crocus, and pansies. They are the sentinels that brave the cold to let us know that winter is behind us, and long sunshiney days are coming.
In the Easter parade
Easter is Sunday, April 12, this year. As you're dying eggs and putting together Easter baskets, don't forget your centerpiece! A gorgeous Easter centerpiece is also a perfect hostess gift. We even have a customer that still gets an Easter corsage for his wife each year. There's something wonderful about Easter memories and traditions!
As I write this post, Fantasy Floral is still open for deliveries and pick-up, but the coronavirus has definitely had an impact. We are using a skeleton staff of just family and doing no-contact deliveries  that we coordinate with the recipients–ringing the doorbell and leaving the arrangement outside the front door to be picked up after we leave. Our drivers are wearing masks and nitrile powder-free gloves and all vases are sterilized before delivery. Curbside pick-up is also available. Just call us to coordinate a time!