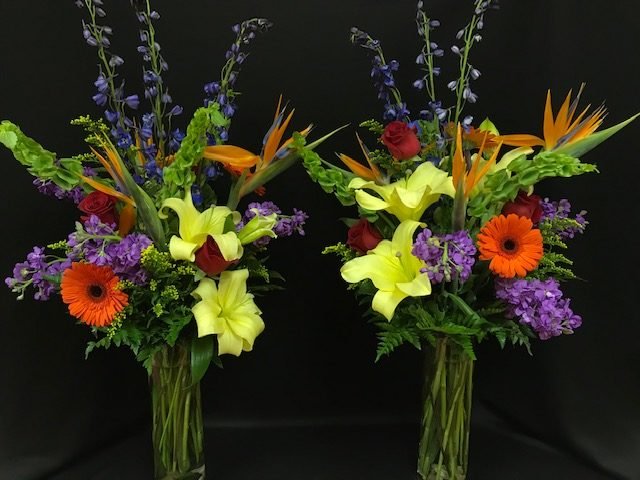 Flowers–A Vacation for the Soul
Sun
Last Saturday was our family's annual Vitamin D Party, where we chase away the post-holiday winter blues by bringing the islands to our home. For one night we don Aloha shirts, flipflops, and sunglasses and crank the heat and the island tunes. Somewhere between the laughter, the vibrant colors, and the tiki bar atmosphere, you forget that it's cold and grey outside. What sunshine does for our bodies, that's what flowers do for our soul! Flowers are a vacation for the soul!
Soul
I realized this as I was mingling during the party. Our house was decorated with flowered plates and tablecloths and strings of flower lights. Our guests were decorated in flower shirts and dresses and leis. Being surrounded by flowers helped make us feel like we were on vacation! Last year I wrote a blog post on Why We Love Flowers which cited all of the scientific studies detailing the benefits of flowers. I think this is true especially in winter. The days are shorter. Many go to work in the dark and come home in the dark. It's too cold for flowers to survive outside. The sun doesn't shine quite as bright, and let's face it, after all the joy of the holidays, winter just make us feel dreary. It's the perfect time to send someone flowers, a vacation for their soul.
Surprise
Recently, we've delivered flowers to a daughter who was "having a rough week," flowers to a partner who "needed some cheering up," and flowers to a mom who had just gone back to work "to brighten up the office." Whether the workplace is an office or the home kitchen; whether the recipient is a woman or a man; a bright burst of color is just the ticket to soothe our dreary souls! Especially don't forget the men in your life! As I deliver flowers, men comment on the arrangements just as much as women do. And the best occasion to send someone flowers is for no occasion at all–just because! The best smiles are the surprised smiles when someone realizes they received a beautiful bouquet of color for no reason at all except to bring them joy and let them know they are loved.
Send
When I think about my favorite vacations, those are the feelings that are front and center–being immersed in joy and surrounded by love. So pick up the phone or go to our website and send someone's soul on vacation today!