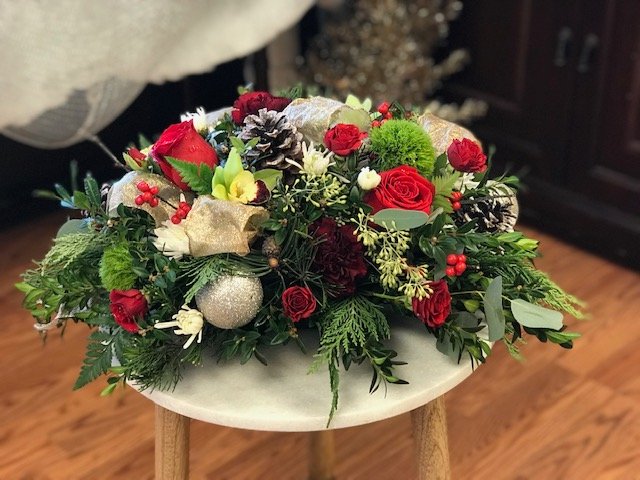 Holiday Flowers
We're here to help you find the perfect holiday flowers–whether it's a centerpiece for your Thanksgiving table or an arrangement you'd like to give to your hostess or host! Fall and winter flowers are full of deep, bold hues and wonderful textures.
The type of arrangement you choose will most likely be dictated by where the arrangement will be. For the holidays, arrangements generally fall into four categories: low profile, garlands, tall focal, and short focal.
Types of Arrangements
Low profile are perfect for centerpieces and are low to allow guests to talk to each other across the table. Depending on the table shape and length, they can be round or long. Candles and/or lanterns can also be incorporated into these types of arrangements.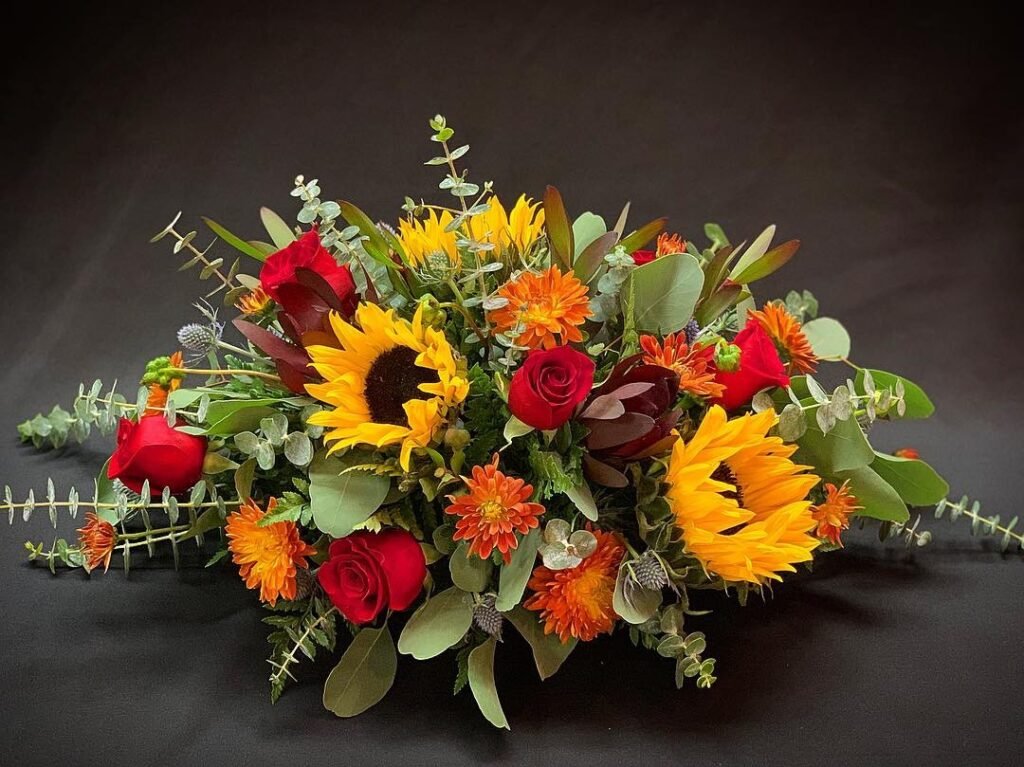 Garlands are a great option if you have a very long table or are working within a budget. If you need most of your table space for dishes, you might want to choose a thinner garland that just adds a line of texture down the middle of your table. Garlands can be all or mostly greenery such as ruscus, eucalyptus, pine, or cedar. From there, you can add woodier herbs such as rosemary and thyme, pine cones, or flowers to pick up the colors in your room or add seasonal festivity.
A tall focal arrangement is perfect on a table in a large foyer to welcome guests or in the corner of the buffet table. You could go with appropriate holiday colors or choose a palette that compliments the home or room that the arrangement is in. These type of arrangements can be three-sided so the flat side backs up against a wall or all-the-way-around. The all-the-way-around variety, when tall enough, can be used as a centerpiece as it allows people to see under the arrangement while talking to other guests.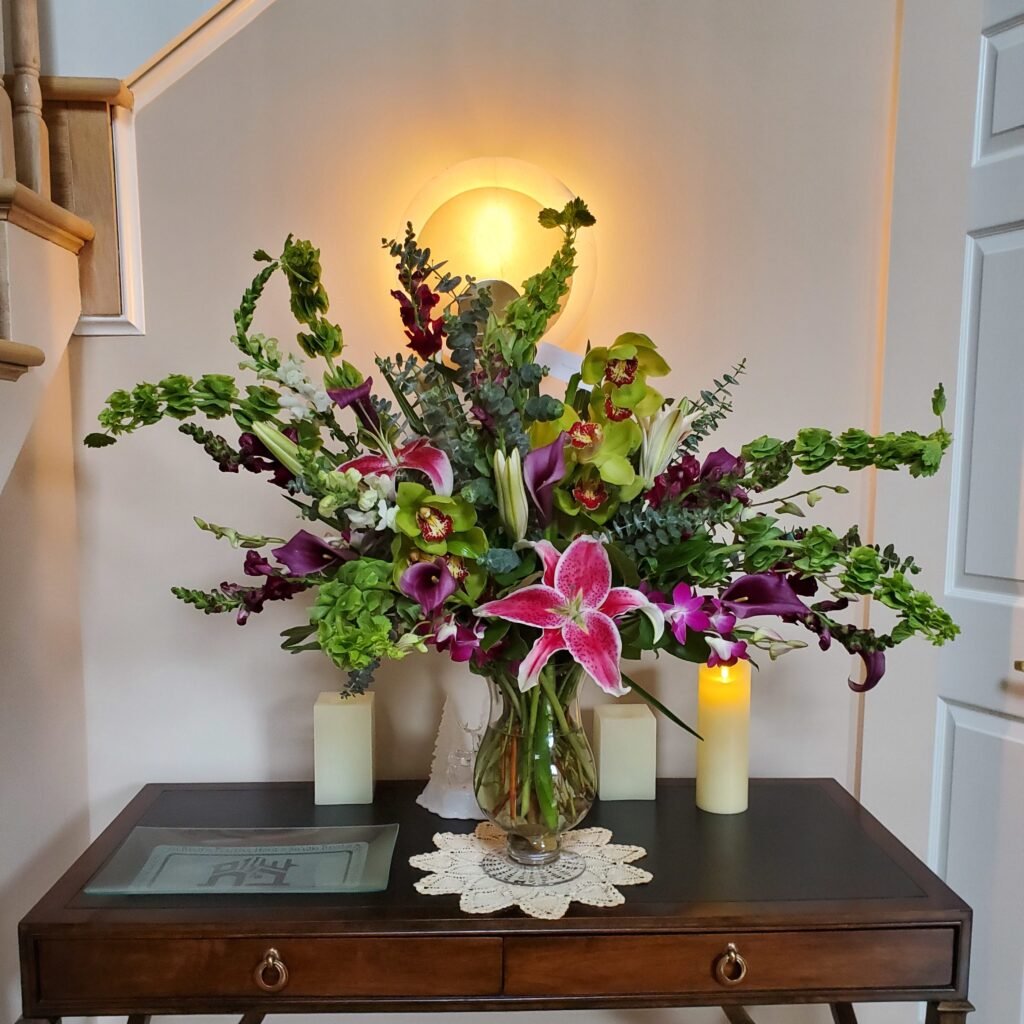 A small focal arrangement is a good choice for smaller entryways, a guest room, a powder room, or anywhere that you would like to add a pop of color and a festive spirit. These can also be used as centerpieces for smaller/round tables, or several can be used for longer tables.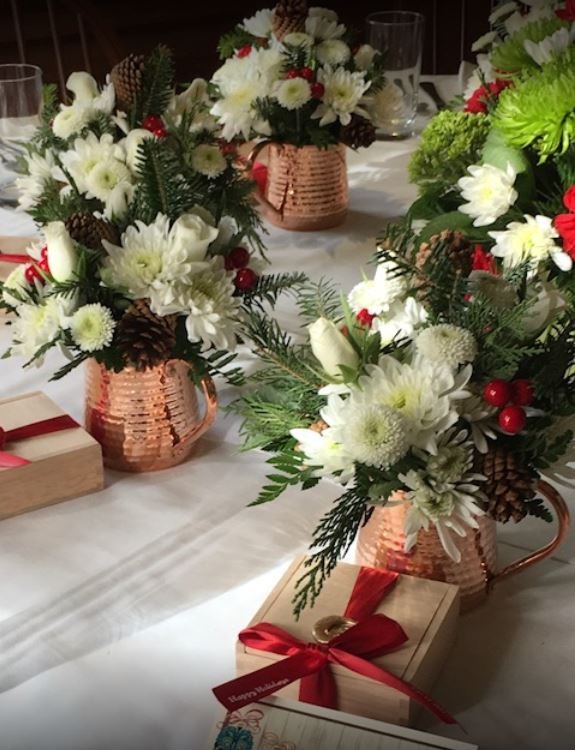 Thanksgiving Flowers
I love Thanksgiving arrangements because of all the fun textural items that can be added. Mango calla lilies, red roses, orange gerbera daisies, bronze mums, and burgundy dahlias, bring gorgeous fall tones. Add a combination of cat tails, chocolate queen ann's lace, wheat, dried lotus pods, hypericum berries, salidago, or bupleurum, and you have a unique arrangement from fall's bounty.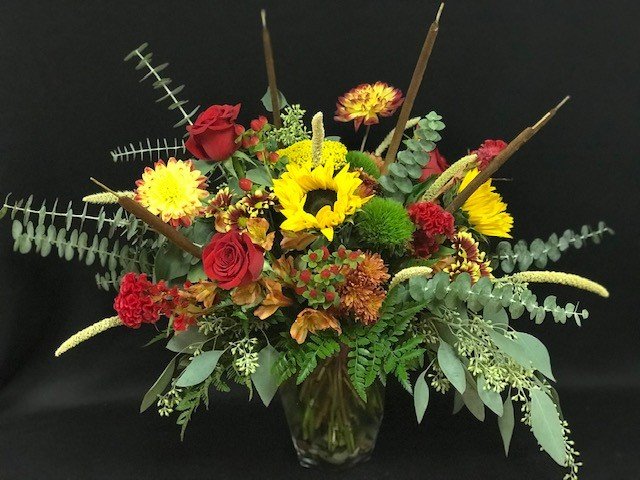 Christmas Flowers
Of course red and green reign supreme in Christmas Arrangements, and mother nature has no shortage of offerings. Almost every flower comes in red such as roses, gerbera daisies, lilies, mums, and carnations. The winter season adds another layer of dark greenery that look and smell like Christmas–pine, cedar, spruce, fir, and juniper. Put these together in unique and whimsical ways. Maybe add beautiful white calla lilies for a more romantic contrast or sparkly ornaments and "ting ting" for playful festivity, and you've got a special arrangement to grace your home for the holiday!
Mother nature doesn't have a lot of flowers that are naturally blue, but what she does have are beautiful! Blue delphinium bring a bright royal blue that lends height and dimension to arrangements. Hydrangea come in dark and light blue hues, offer a lot of bang for the buck, and lend an elegant garden-style touch. Blue thistle is long lasting and adds fun texture, or you could try white anemones with their gorgeous blue centers. Whether you're looking for a tall focal arrangement or a shorter centerpiece, there are plenty of holiday flowers to choose from!
Of course we are here to help! Just give us a call, and we'll help you come up with the perfect holiday flowers!