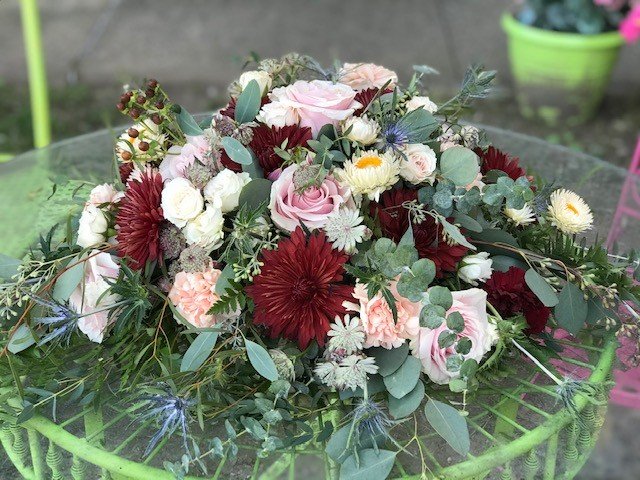 Our Favorite Flowers Right Now
After a spring and summer of full headed, brightly colored, garden flowers such as hydrangeas, peonies, and roses, we love seeing fall's bounty emerging. From the deep jewel tones to the playful textures that mark this crisp cool season, these are some of our favorite flowers right now.
Dahlia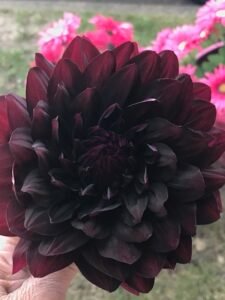 Most people think of dahlias as late spring and summer flowers, but this year has been a tough one for dahlias. According to our farmers, dahlias need a cold winter and a warm spring to produce the most beautiful dahlias. That was not this year so it's just been recently that we've been able to get the large, gorgeous dahlias that we're used to. The deep colors are perfect for our fall brides' bouquets.
Astrantia
Astrantia looks like a wildflower to me. It's delicate and willowy and comes in different colors. It is not a focal flower. When added to a bouquet or arrangement, it adds surprising texture and depth. Astrantia also ties different colors together into a cohesive look–whites and burgundies, pinks and maroons.
Strawflower
With a texture that doesn't feel like a real flower, strawflowers are just fun! If you're hoping to hang your bride's bouquet upside down to create a dried bouquet, strawflowers are a perfect addition. They look the same when dried as they do when freshly cut.
Celosia
While many people don't know this flower's name, they sure can describe it! It's the Dr. Seuss flower! Celosia comes in many forms and colors from mustard colored cranial flowers to bright red feathery spiked flowers. This is a fun flower to add whimsy and texture. We've been enjoying this soft lavender colored Asian Garden celosia that came to us unexpectedly from a local farmer.
Thistle
Trevor has been known to call this his secret ingredient, and it's easy to see why! He's particular to the Sea Holly thistle for its vibrant blue color. Mother Nature doesn't have a lot of flowers that come in true blue. But this thistle really is true blue while adding subtle texture.
Astilbe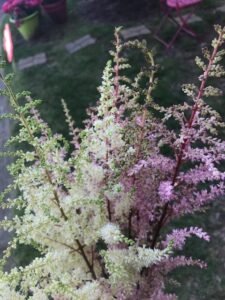 If you have a bride's bouquet or arrangement that is heavy with large flowers, astilbe might be the perfect addition. This airy flower comes in all different colors from whites and pastels to deep hued burgundies. Astilbe is perfect for adding texture and breaking up blocks of heavier flowers such as roses and dahlias.
Queen Anne's Lace
While baby's breath is still a wedding standard, we've had fun this year using Queen Anne's Lace instead. I usually think of Queen Anne's Lace as the wildflower that I see when I run through the Manassas battlefields. It is that wildflower. When used in a bride's bouquet or reception centerpieces, it lends that soft delicate quality that brides often look for.
One of the fun things about living in Virginia is experiencing the wonders of each of the four seasons. I get excited when I wake up to crisp chilly mornings and the sound of wind blowing through drying leaves. The advent of fall is also exciting for florists as we get to play with the new colors and textures of our favorite flowers…right now.