Spanish Flowers as La Liga Returns
We visited my youngest son a couple of years ago when he lived in Spain. For me, the best part of the trip was E-man escorting us around his adopted city. It's hard not to fall in love with Spain–the people, the food, the history, the natural beauty…and football. If you've never understood the world's obsession with football, visit Spain, and you'll understand! Football resumed on June 11th. I thought it would be fun to explore Spanish flowers as La Liga returns.
Red Carnation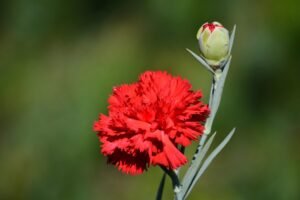 For many Americans, the carnation is a filler flower. For the Spanish,  the red carnation is their beloved national flower. It's central to much of Spanish culture including bull fighting, flamenco dancing, and decorations during Easter parades. The red represents love and passion. While the carnation itself blooms at the beginning of summer, it blooms through most of the summer. Once cut and placed in water, the carnation lasts for several weeks if the water is refreshed regularly. Carnations provide wonderful, long-lasting pops of color in arrangements.
Pomegranate Flower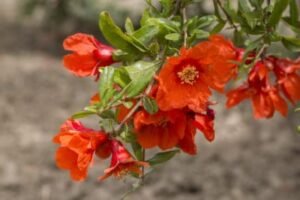 I must admit I knew nothing about growing pomegranates until I researched for this blog post. The trees are gorgeous when they are in bloom. With flowers the same vibrant color as the delicious fruit, it's a tree I wish could tolerate Virginia's climate! It's easy to see why these trees are so popular in Spain.
Spanish Bluebells

Just like their name implies, Spanish bluebells look like little bells in vibrant blue hanging on a stem. Locally, Bull Run Regional Park is famous for its trails (pictured above) that are lined with Virginia bluebells in the spring. Despite looking similar, the two plants are not related. Spanish bluebells come from the hyacinth family and grow from bulbs. Virginia bluebells are plants that grow year-round, although they do go dormant in the heat of the summer. If you haven't strolled the bluebell trails at Bull Run, definitely plan a visit next spring!
Lantana
Last summer, it seemed that every office complex I delivered arrangements to planted the same flower. They grew in mounds and produced blooms that were a combination of hot pink and orange. The best part about them was every flower bed I saw had monarch butterflies on them. I fell in love with them and even stopped to take photos of the monarch butterflies one day (pictured above). I just didn't know the flower's name. This spring as I was buying a few pollinator-friendly perennials, I found hanging baskets with this unknown flower and finally discovered its name–Lantana! That combination of hot pink and orange, paired with the vibrant blue of the Spanish bluebells, is definitely a color combination that reminds me of Spain!
Bougainvillea
When I think of Spanish houses or Spanish-style houses in California, I think of walls and archways covered in gorgeous bougainvillea vines. The more temperate climate of southern Spain supports bougainvillea year-round. The canes of the vine grow up to twenty feet tall, and the vines grow to thirty feet or more in length. Many of my friends that live in California consider it a nuisance weed, but bougainvillea still always impresses me with the explosion of color it offers.
Geraniums
As a young adult, my first flowers when I had my own yard to landscape were geraniums. They provide such vibrant colored flowers all summer long and grow to fill empty spaces in the garden. I love the feel of the geranium's soft fuzzy leaves, and some geraniums are even scented!  Additionally, they do really well in flower boxes. Walk down any of the narrow Spanish alleys. You'll find window boxes overflowing with flowers in all different colors and textures–geraniums among them.
I have a fond memory of an outside bar in Logroño, Spain, with my son and his Spanish friends. They playfully debated who was better–FC Barcelona or Real Madrid. I was surrounded by laughter, the amazing smells of pintxos, impressive architecture from another era…and flowers. Last week's news that football started back up in Spain sent me back to that moment. I'm remembering Spanish flowers as La Liga returns.