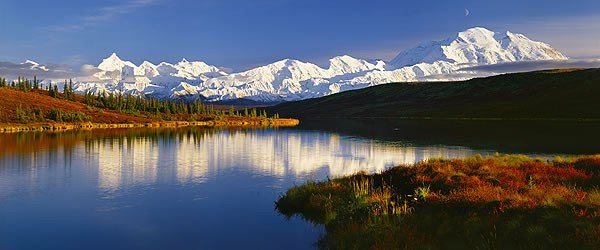 Into the Wild Flowers of Alaska
I read the book, "Into the Wild," and then saw the movie, because it was about a local boy. Chris McCandless graduated from Woodson HS in Fairfax, VA just a few years after I graduated from Fort Hunt HS in Alexandria, VA. The debate continues as to whether McCandless was a sincere seeker of a non-materialistic way of life or just an unwise idiot. As I read the book, I found myself admiring his ability to walk away from everything and get lost in Mother Nature. There is a part of me that has always wanted to do that. As images of that iconic bus that sheltered McCandless flickered on the news this morning, I again promised myself I'd visit Alaska. Since I'm not sure when that will happen, today I will virtually forage into the wild flowers of Alaska.
The bus McCandless used as a shelter was just outside of Denali National Park so that is the area I decided to focus on. Summers are short in Alaska, but that doesn't deter the almost 200 species of wildflowers from making the most of the longer, warmer days. It seems every photo I see of Denali National Park has a bear, a lake, Mount Denali, and a wide expanse of meadow land covered in wild flowers. These are some of my favorites!
Forget Me Not
At the flower shop, we often get requests for blue flowers. My standard response is that nature doesn't produce many true blue flowers. The only ones we stock regularly are blue hydrangeas and blue delphinium. Somehow it is no surprise that the Forget Me Not is Alaska's official flower. Also truly blue, this flower does not lend itself to cut flower arrangements, but its striking color means you won't likely forget seeing it.
Purple Mountain Saxifrage
This bright pink/purple flower reminds me of our local phlox. Like phlox, purple mountain saxifrage is one of the first flowers to emerge in the spring and loves nestling around and over rocks. Like the indomitable Alaskan natives and pioneers, this flower manages to survive and thrive under less than ideal conditions.
Pale Corydalis
The Denali National Park has a great photo album on its Facebook page. The title of the album is, "Wildflowers of Denali 2012." The goal of Jacob W. Frank was to see how many unique wildflowers he could photograph in a single season. In 2012, Frank photographed 185 different kinds of wildflowers. It's a fun photo album to scroll through. With its unique coloring and shape, the pale corydalis is probably one of my favorites!
Glaucous Gentian
Another color that people sometimes request is teal. Until today as I scrolled through Jacob W. Frank's photo album, I did not know that flowers actually came in teal. The nuanced color of the glaucous gentian is gorgeous! The color reminds me of the sea. Sometimes the petals are a bright teal as if reflecting the sun. Other times the petals are dark without much of the bright green shining through, just like the sea during a storm.
Bluebells
Continuing on my previous blog post, I thought it would be fun to include bluebells. Evidently  bluebells are highly edible. The locals in Alaska also know it as chiming bell. It seems that most parts of our little world have a version of bluebells. The ones in Alaska are similar to the ones that you'll find in Virginia–pink as the buds emerge and then periwinkle blue as they mature.
After all the hiking I've done in Virginia, if you were to blindfold me and drop me into the Virginia woods, I would know I was in Virginia just by the natural surroundings. I suspect you could blindfold any Alaskan, and as they make their way into the wild flowers of Alaska, they would know they were home.