Our Favorite Flowers Right Now
While we have access to many flowers all year long with very little difference in pricing, there are some flowers that are still very seasonal. One of the most requested flowers is the peony. It's easy to see why, but peonies are not readily available during most of the year. We are in the middle of summer flower season. Here are our favorite flowers right now.
Peony
Brides especially love to have peonies in their bridal bouquets. If you have your heart set on peonies in your bouquet, you'll want to get married in late spring or early summer. That's when this gorgeous flower is in season. During the rest of the year, peonies are prohibitively expensive. During Mother's Day, we always get a lot of requests for peonies. Fortunately Mother's Day falls right at the beginning of peony season so we are able to honor most requests without blowing the budget.
Dahlia
If Mother Nature used a spirograph to create a flower, she would come up with the dahlia. Their concentric circles of petals fascinate me. There is a dahlia for every color palate imaginable. There are delicate looking white or light pink dahlias. For something more bright and bold you can choose from yellows and oranges. If you need a darker palate there are deep burgundies and dark purples. I found these fun dahlias to plant in my yard this year. Each bloom has the same two-toned combination of yellow and pinky/purple, but the mix of the two colors is different in each bloom. I love them!
Zinnia
When I first started working at the shop, I had a hard time telling the difference between a dahlia and a zinnia. Both are from the sunflower family so the construction of each of these flowers is similar. There are not as many varieties of zinnias as there are dahlias, but zinnias also come in a  fun array of colors. Easily grown from seed, zinnias are a great flower to plant in your garden. You'll have loads of colorful flowers to cut throughout the summer for your own arrangements.
Gladiola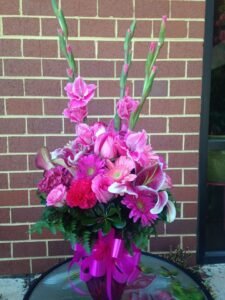 I love gladiolas in arrangements because they add wonderful height and texture. I planted gladiola tubers for the first time in my yard this year, and they are just starting to emerge. I am hoping they'll come back next summer. Stay tuned! In addition to arrangements, gladiolas also make great corsages and boutonnieres. We had a customer that wanted a corsage made out of an unusual flower, not the typical rose or carnation. We had just gotten some gladiolas in so our designer used them. The corsage was beautiful and elegant!
Iris
There is a house that I walk by in my neighborhood that has the most beautiful bearded irises planted around their mailbox. They display their stunning purple for a couple of weeks. This morning when I walked by, the blooms were finally spent. With such a unique shape, irises are a favorite flower right now in arrangements. Their vibrant purple color is unmistakable. It pairs beautifully with hot pink roses or happy yellow tulips. Our "Colleen" arrangement is very popular, but because of the seasonality of irises, it's only available during the spring and summer.
While these are our favorite flowers right now, in a couple of months we'll be stocking our coolers with fall colors. As the days get shorter, and the nights get cooler, Mother Nature provides us with another batch of flowers and foliage that will be inspiring us. Check back with us then!