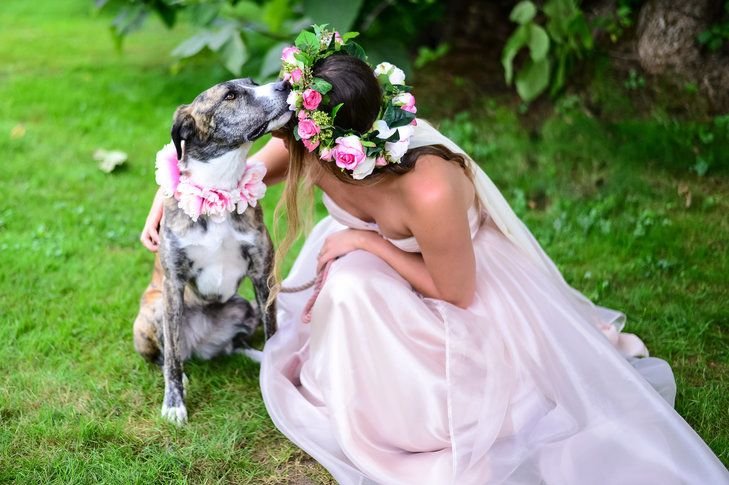 A Flower Collar for Your Dog and Other Unique Wedding Ideas
Most of my friends and I were getting married in the late 80's and early 90's. We were still pretty focused on traditional weddings, not a unique wedding. Dad gave away the bride, most of us had adorable kids as flower girls and ring bearers, and we all made sure our bridesmaids wore hideous dresses. In fact, Trevor was the ring bearer in one of my best friend's wedding, along with the daughter of another good friend. All these years later, it seems almost prophetic that he owns a flower shop that specializes in helping to create special and unique weddings for happy couples!
As I was watching the Royal Wedding last month, the image of Meghan Markle walking down the aisle–poised, smiling, graceful, at ease with herself…and solo–was surprising and incredibly inspiring. In that moment, she defined herself, her marriage, and her future role. She showed so many little girls that you can have the fairy tale wedding, be the princess, without giving up any of your own strength and identity. Wow! Who knew weddings could say so much? I realized that is exactly why weddings are so very special now.
Dogs in Weddings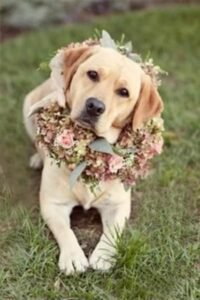 I wondered what unique wedding ideas couples are coming up with to express themselves and their life. One of my friends got married recently at the beach, which is not so unique anymore. They included their rescue dog, Addy, which sounded like a very unique wedding idea to me! After a quick Google search, I realized that more and more couples include their dogs. Dogs serve as ring bearers and flower girls, or just sit quietly next to the bride and groom during the ceremony. Even if the dog isn't part of the ceremony, a lot of couples include their dog in their wedding day photos–another valued family member! Do you need a flower collar or leash for your dog? We can certainly help you!
Cats in Weddings
For every dog lover out there, there is also a cat lover. Yes, cats are part of weddings and wedding photos as well! I once had a cat trained to a harness and leash. She walked on a leash like my dogs. I guess it's not such a far-fetched idea!
Walking the Bride Down the Aisle
I remember seeing a story a couple of years ago about the father of the bride stopping mid-walk to grab the bride's stepfather so that both men could walk their daughter down the aisle. Just as families evolve so are the rules for who walks the bride down the aisle. Like Meghan Markle, some brides walk down the aisle by themselves. According to Loverly, for those brides whose fathers have passed away or who just don't like the idea of being "given away," there are lots of unique wedding alternatives! Mothers, brothers, and best friends are all walking brides down the aisle. Ceremonies are clearly becoming a representation of the people that are important in a couple's life.
Mixed-Gender Wedding Parties
Years ago, one of my best friends from college got married married, and he wanted me in his wedding. At the time, a woman serving as a groomsman wasn't a thing so his Bride asked me to be one of her bridesmaids. That was such a special gesture on her part! Today, the traditional gender roles are being thrown out so women are on the groom's side and men are on the bride's side. The concept of sitting on the bride's side or the groom's side is also being thrown out. Guests sit wherever they would like–supporting the couple.
Alternative Ceremonies
We just recently met with a couple who are having a handfasting at a beautiful wooden pergola in Algonkian Park. A handfasting "is an old Pagan custom, dating back to the time of the ancient Celts. Today, Wiccans and Pagans have embraced handfasting as a part of their wedding ceremony. The hands of the couple are clasped and fastened together with a cord or cords. The wrapping of the cord forms an infinity symbol. The handfasting knot that is tied is a symbolic representation of oneness between the couple. In a show of unity, they become bound to each other." The beautiful rustic pergola is a perfect backdrop for this ceremony.
Realizing the Vision
We're doing a wedding this fall for a couple who are taking rustic to a whole new level. The groom likes to hunt so the whole wedding revolves around a hunting theme. They are including pine cone boutonnieres, bouquets made with all sorts of fun textures and muted natural colors, centerpieces that sit on split logs, and the mother of the bride is even hanging fake pelts in the restrooms! We are excited to help them make their vision a reality!