Evergreens – Winter's Favorite Foliage
As we approach the winter season, flowers are starting to fade away, waiting for spring to come again. That doesn't mean that we'll stop designing, however! There are lots of lovely plants and even flowers that love the winter season and have a beautiful, wintery quality when used in arrangements. Today, I'm talking about evergreens!
An evergreen is exactly what it sounds like: it's a plant that keeps its foliage all year round! They're the opposite of deciduous plants, which lose their leaves every winter and grow them back in the spring. Today, I'm going to spotlight how evergreen plants find their uses in arrangements.
Fir
You're probably familiar with fir trees as the typical Christmas tree, but did you know that these branches have a place in arrangements too? Both Frasier and Douglas fir boughs make great additions to arrangements. There are all sorts of other fir varieties that we love to use as well. And since they're so evocative of Christmas, firs look especially lovely in a centerpiece for a holiday dinner!
Pine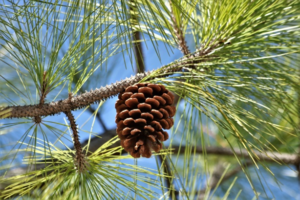 With longer needles than that of the fir trees, pine makes a beautiful addition to winter arrangements! The needles have a unique look that lend themselves to more artistic arrangements. They also help to make an arrangement feel more natural and almost garden-grown. We don't just use the needles, though! The iconic pinecones can also be used in arrangements, and they're perfect for achieving that fall and winter vibe!
Cedar
Cedar boughs have a distinct shape from firs and pines, and they tend to be lighter in color as well. These beautiful branches lend themselves to arrangements of any kind, not just holiday flowers! If you're looking to send a birthday or anniversary arrangement but want to take advantage of beautiful winter plants, cedar may be the branch for you!
Juniper
You're probably most familiar with juniper from its fragrance and its bright blue berries, but this plant also looks gorgeous in floral arrangements! The leaves have that classic evergreen look to them, and the berries complement arrangements with cool hues quite well. Plus, the berries have a frosty look to them that just screams winter!
Mistletoe
There's no plant more evocative of the holidays than mistletoe! (Except maybe holly…but that's getting its own post!) This plant, which grows parasitically on other trees, is a great addition to a holiday arrangement. The white berries of American mistletoe complement the whites of winter. A perfect pairing for a romantic holiday arrangement!
If you're curious about the evergreens we have in stock or want to order an arrangement with them, just give us a call!