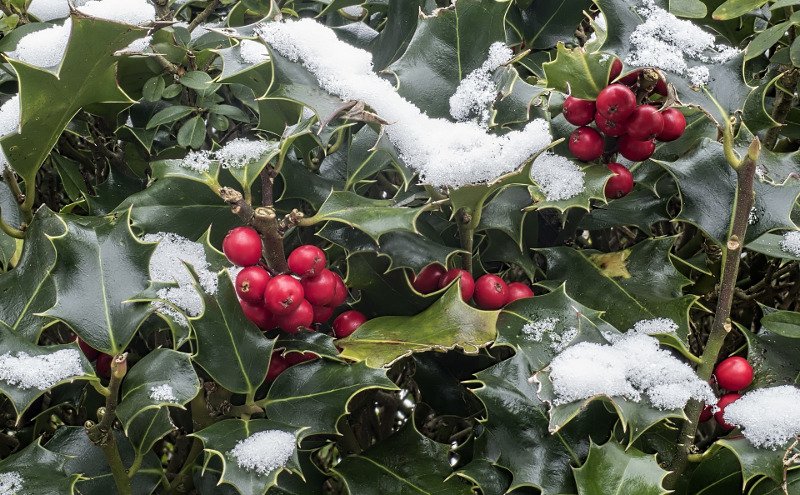 Holly Jolly Holly
In my last blog post, I talked about all the beautiful evergreens available during this time of year. Keen-eyed readers may notice that I left out one of the most festive ones: holly! That's because I wanted to dedicate an entire post to this beautiful berry and the history and significance around it.
The History of Holly
What we think of as "normal" holly is actually just one member of a much larger genus of plants! All 570+ members of the Ilex genus can be referred to as holly, and the genus includes both evergreen and deciduous plants. "Normal" holly is Ilex aquifolium, and it has those bright red berries and spiky leaves that have become a universal symbol of Christmas.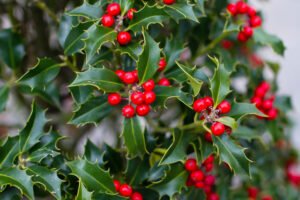 The use of holly as a Christian symbol began in medieval times. The plant's spiky leaves evoke the crown of thorns worn by Jesus, and the plant maintains its vibrant color throughout the cold winter. Ancient Celtic peoples also used holly to celebrate the winter solstice, revering its beauty during the darkness of winter. When considered in tandem, it's no surprise that these two separate traditions led to holly being the symbol of winter holidays!
Holly in the Modern Era
Today, holly retains its status as an iconic Christmas symbol, even as the holiday has become more popular in the non-Christian mainstream. Its vibrant red and green colors match with the red of poinsettia plants, the green of fir trees, and of course, the red of Santa's suit! Lots of people use holly in place of mistletoe, whether that's by mistake or because they like the look better. If the plant you're standing under has red berries, that's holly!
For me, the place where holly shows up the most around the holidays is in music! The obvious one is "Deck the Hall," originating from a Welsh tune with lyrics added in 1862. (Fun fact: the plural "Deck the Halls" is a later variation that didn't show up until thirty years after the original lyrics were written!) My personal favorite is "The Holly and the Ivy," a traditional British carol dating back to the early nineteenth century. The first verse concludes with the line "Of all the trees that are in the wood, / The holly bears the crown," and to me, that could not be more true! And you can't forget "Holly Jolly Christmas," even if holly's just used for a rhyme.
Have I sold you on holly yet? If you'd like some holly jolly holly in your holiday dinner centerpiece, just give us a call!