Fall Decorations
The holiday season is upon us! Our neighborhood has an active Facebook page, and Halloween has been a hot topic. I was also talking to my mom the other day about Thanksgiving. We're still not sure what that is going to look like for our family. We have elderly mothers on both sides of the family. Between the two holidays, fall decorations are a great way to bring the celebration during this time of social distancing.
Especially for Halloween, it seems like decorations are bigger and bolder this year. Traditional costume parties are being cancelled, and families are concocting socially distanced candy dispensing. With so much being taken away, it's all about decorating your yard! Walk into any party, craft, or pop-up Halloween store, and the options are endless. There are low-budget items that will easily fill a yard like packs of tombstones , giant spider webs, and home-made ghosts. There are also high-ticket items like animatronic dragons that will have you unsheathing your Valyrian Steel sword.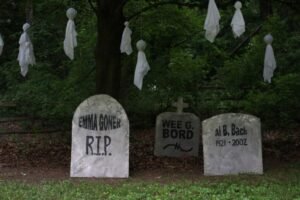 For Thanksgiving, or if you just want a classic fall look, mums and pumpkins are great options. Lidl has great prices on mums, pumpkins, and flameless candles. Local farms are getting creative this year like the self-driven hayride at Cox Farms. While you're there, pick up some mums and pumpkins and gourds. Choose a corner next to your front door or the base of your front steps and arrange your bounty wrapped in seasonal ribbons.  My college friend had limited time and budget but came up with this cheery display!
However your family is celebrating this fall, we hope it continues to be full of love and laughter…and lots of fall decorations!