Mother's Day and Flowers
the seed…
The first gifts I remember giving my mom for Mother's Day were handmade cards and a drinking glass full of flowers that I had picked around the neighborhood. No, they were not my neighbor's daffodils and tulips! In my little girl eyes, they were a beautiful array of yellows and reds and purples and greens. In reality they were buttercups, dandelions, yellow rocket, red clover, bull thistle, and chicory. I proudly presented my bouquet of weeds to my mom, and she just as proudly hugged me and thanked me.
I was walking my dogs the other morning. The undeveloped land next to the path I was on was bursting with color–bright yellow buttercups and yellow rocket, purple deadnettle, and vibrant red clover. I gathered a large handful of assorted weeds as we walked and put them in a drinking glass when we got home. I had forgotten how reflective buttercup petals are. This reminded me of the custom my mom shared with me and my brother when we were growing up. If you hold a buttercup flower under your chin, and a yellow reflection appears, you like butter!
the leaf…
As my brother and I got older, Mother's Day gifts involved helping my mom plant flowers. She wasn't a huge gardener, but she always planted some annual flowers and had crocus, hyacinth, tulips, and daffodils, that came up throughout the yard in early spring. Her rule of thumb was that flowers shouldn't be planted until Mother's Day because of that ever-present chance of a late April frost. We would go to church in the morning, take Mom out to lunch, and then Dad would take us to the garden center so Mom could choose her annuals.
the bud…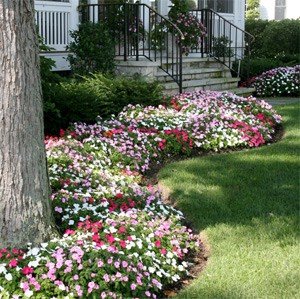 When I became a young mother in my own home, I came to look forward to Mother's Day because it marked the first day that I could bring my yard to life with flowers. We had a small townhouse yard, and I especially loved impatiens because our front yard never got full sun. The impatiens thrived in the shade, and by the end of summer they were huge globes of color surrounding the tree and framing the front of our house.
the bloom…
As my boys got older, Mom and Dad moved to a home on 5 acres because they wanted some privacy. The first Mother's Day that they were in their new home, I wanted to give my mom something more permanent than a bouquet of cut flowers. I bought her a hydrangea plant to christen their new yard. It was blue because that was her favorite color to decorate with. It felt like the perfect gift–a flowering plant that could grow with their memories in their new home.
pressed between pages…
My dad loved giving flowers to his "girl." He was always bringing home a wrapped bouquet for Mom, just because. This became difficult in his later years when he couldn't drive so he would have me pick flowers up for him when I was going to their house to visit. His favorite florist was actually in the McNamara family-owned General Store in Clifton, VA. Dad would tell the florist, Judy, what he wanted, and I would grab the arrangement on my way up the hill to their home. Mom was never without fresh flowers on Mother's Day! Judy has retired as a florist, but the Clifton General Store is still thriving under her children's management. It is now the very popular Main Street Pub, and they always have fresh spider mum flowers on each table!
the seed…
I've come to love the holidays at Fantasy Floral but especially Mother's Day! As people describe the flowers and kind of arrangement they would like, often they end up describing what they love about their mom or wife. I get to hear great stories about great moms! Even better are the stories our drivers share with us–the looks of wonder when moms open their front doors to a beautiful arrangement and the gratitude expressed. Love and mothers and flowers just go hand in hand.
Stevie Wonder says it well, "Mama was my greatest teacher, a teacher of compassion, love and fearlessness. If love is sweet as a flower, then my mother is that sweet flower of love."