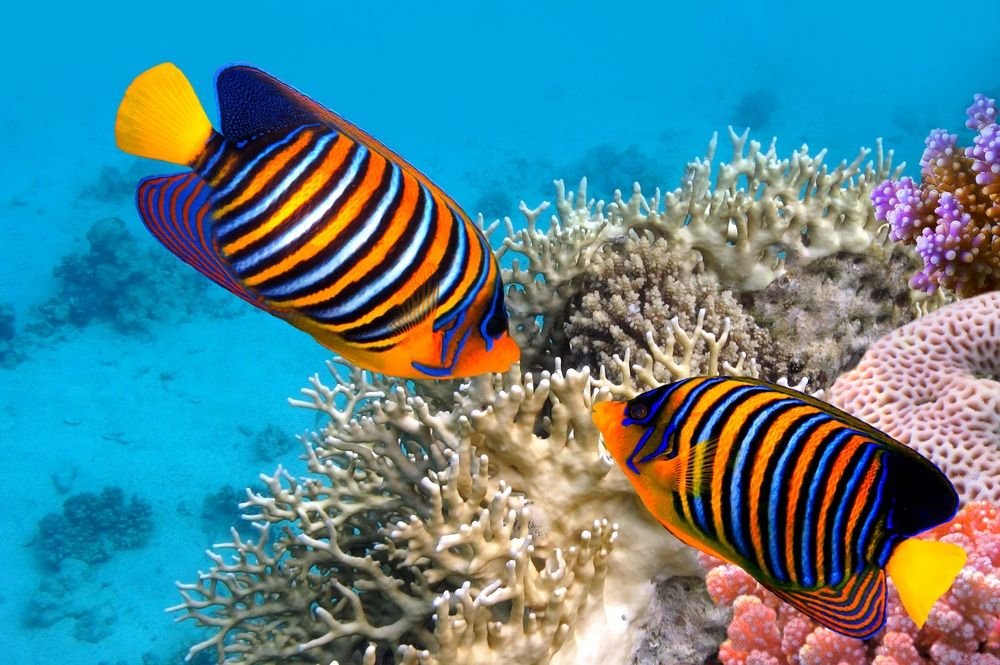 What Flower Colors Should I Choose?
Sometimes when people call our shop to order a flower arrangement, they have no idea what flower colors or flowers they would like. As the manager, I want to ensure that our arrangements are fresh and inspiring and new so I'm always looking for sources of inspiration!
Color trends show up on all of the products around us, including flower colors. Pantone's 2019 Color of the Year is Living Coral. Because it's such an unusual color, I found myself asking, "What other colors would go well with coral in an arrangement?" More importantly, how do you choose these colors? I did a web search for the color coral. Of course, I found lots of images of coral reefs and fish!
If we look around us, we'll see that Mother Nature provides an abundance of examples of stunning color combinations. Interestingly enough, the color combinations that I found in those images of reefs and fish correspond to the science of color harmonies.
Complementary Flower Colors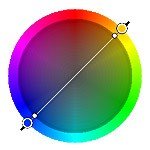 On a color wheel, the complementary color is found directly across the color wheel from the original color. When complementary paint colors are mixed together, they cancel each other out–creating an almost white color. Alternatively, complementary colors placed next to each other provide the highest contrast.
The complementary color for coral is lime green. As you can see from the goby fish and the colorful collection of coral colonies, nature is full of examples of this vibrant combination.
If you're looking for an eye-catching arrangement, complementary flower colors will give you the wow-factor you're looking for. Our own "Bravia" (pictured above) is a vibrant example. Bright green pom button flowers combined with warm coral flower colors, create an arrangement that speaks both to bright spring as well as the warmer tones of autumn. Are you including coral in your wedding theme? The pops of lime green colored flowers are so festive next to the coral of the bridesmaids' dresses.
Triadic Flower Colors
Triadic colors are three colors spaced evenly apart on the color wheel. This color scheme offers vibrant contrast while maintaining balance. For flower arrangements, this color scheme is perfect for celebrating special days while fitting in with most decor.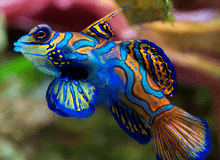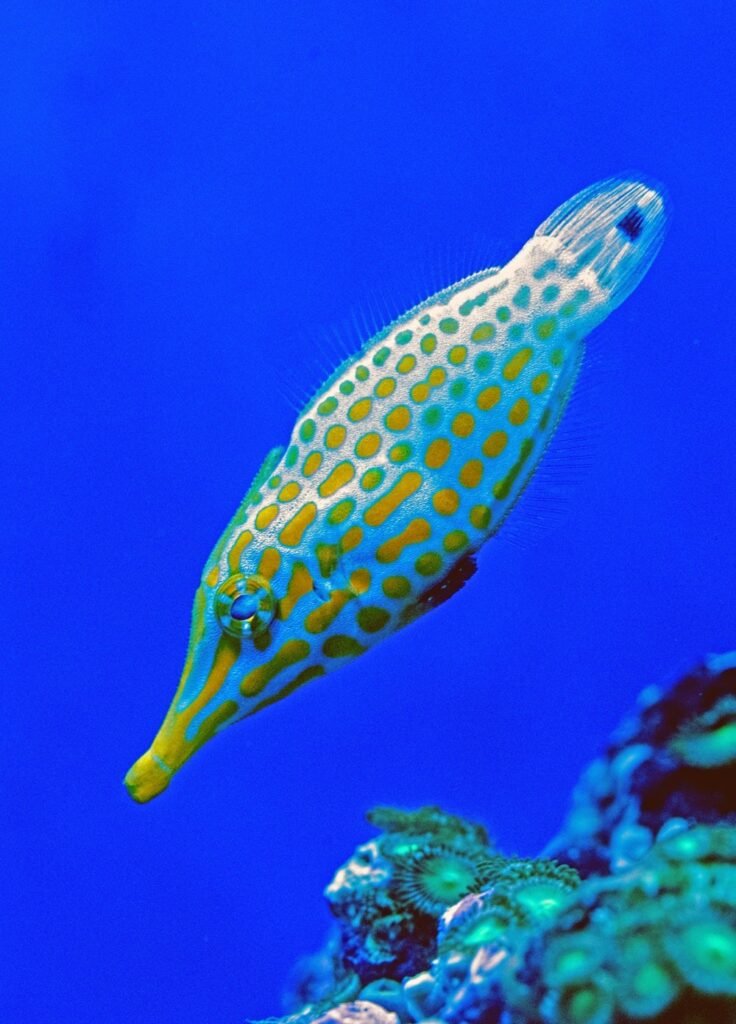 Royal blue and bright yellow are coral's triadic colors. Once again, our oceans provide vivid examples of this color combination. The mandarinfish (top) and filefish (bottom) are absolutely stunning!
Not many flowers come naturally blue, but the ones that do are gorgeous. They also have great texture! The top arrangement has tall blue delphinium that contrasts nicely with the coral roses and green trichilium. While it doesn't have the vibrant royal blue that we see in a coral reef, this bride's bouquet still stays true to coral's triadic colors. I just love the combination of flower colors and textures. The blue thistle and berries hint at fall and winter, while the coral roses and blue hyacinth add the brightness of spring. This bouquet is perfect in any season!
Analogous Flower Colors
Analogous colors are found on either side of the original color on the color wheel. The analogous colors for coral are the warmer tone of orange and the cooler tone of hot pink. If you are looking for a flower arrangement that does not command the spotlight, this is the color scheme for you.
These colors are showcased beautifully in the anthias fish shown above with its gradient of color going from orange to coral to hot pink. A reef colored in shades of orange and coral and hot pink provides a perfect hiding place.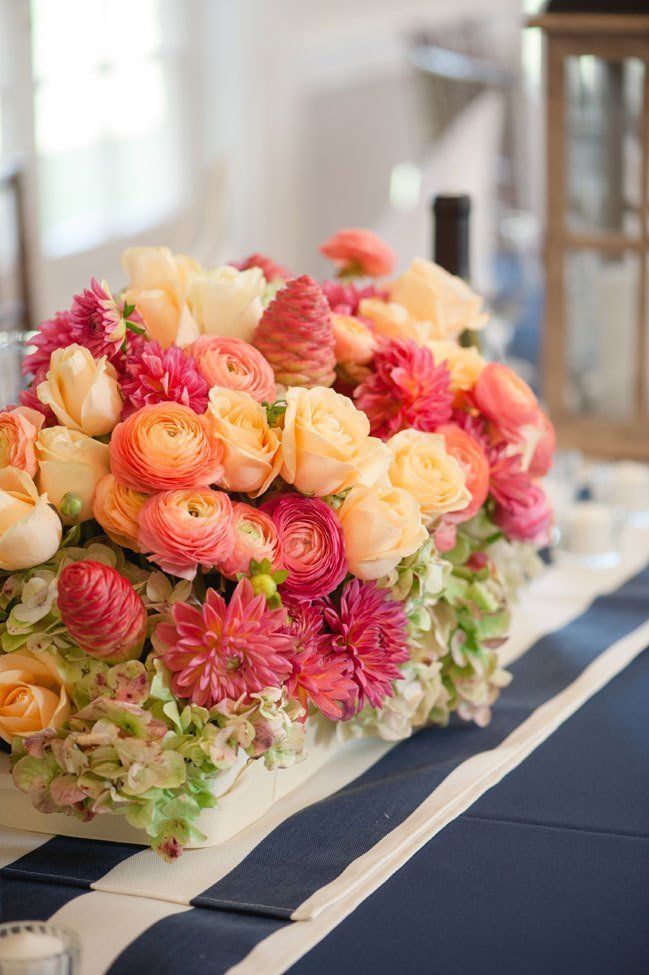 I love the combination of coral ranunculus, as well as the lighter peach colored roses, paired with the hot pink dahlias in the centerpiece above. Adding the green hydrangeas for a pop of color is brilliant!
The flower colors used in these bouquets allow the brides and bridesmaids to be the star of the photo. I also like how the bride's bouquet is just slightly different. It has a bit more bright greens and whites to make it stand out. Brides should stand out!
Today, coral reefs were my inspiration. Just look around you! Nature is full of inspiration to help you choose flower colors.