Why We Love Flowers
Each day at the flower shop, I see it–people just love flowers!
I see it in the faces of the two ladies that stopped by Fantasy Floral on their lunch break, "It smells so good in here!" I hear it in the choked up voice of the mom who called us on Mother's Day, "I just wanted to thank you. This is the most beautiful arrangement I have ever received! I just…just thank you…" Our delivery drivers witness it walking into office buildings, and without fail, someone they pass exclaims with a smile, "For me?!"
Reduce Stress
Last month, one of my childhood friends posted a photo on Facebook of her handing a bouquet of flowers to a woman as part of the Society of American Florists' #StressLess tour. The look on the recipient's face is one of joyful surprise, and I thought to myself, "This is why I love managing my son's flower shop!" It's not just a job; it's being a part of something that brings joy, but that photo made me realize that it's so much more than just bringing a moment of joy.
Bring Joy
Traditionally, we give women flowers for special occasions–anniversaries, birthdays, and of course Valentine's Day and Mother's Day. We've always known women love receiving flowers, but as I contemplated why we love flowers and did a bit of research, I found studies that provided a wealth of information and unexpected insight.
In one study, run by Jeannette Haviland-Jones in her Human Emotions Lab at Rutgers University, participants were presented with one of three gifts—a decorative candle, a fruit basket, or a floral bouquet—­supposedly as a thank-you for taking part in a study on mood. "In every case, the recipients responded to the flowers with what is known as the Duchenne smile—a heartfelt 'true smile' involving the mouth, cheeks, and eyes; neither the candle nor the fruit elicited that kind of across-­the-board positive response. And three days later, the flower recipients were still feeling happier than their cohorts in the study."
Increase Personal Connections
The good effects don't end there though! The participants that received the flower bouquets "reported feeling less depressed, anxious and agitated after receiving flowers, and demonstrated a higher sense of enjoyment and life satisfaction." While we've always known how much women love flowers, did you know that men also love flowers? "The men who received flowers demonstrated increased eye contact in conversation, stood in closer proximity to the researchers, and produced more and truer smiles than those men who did not receive flowers."
Brighten the Office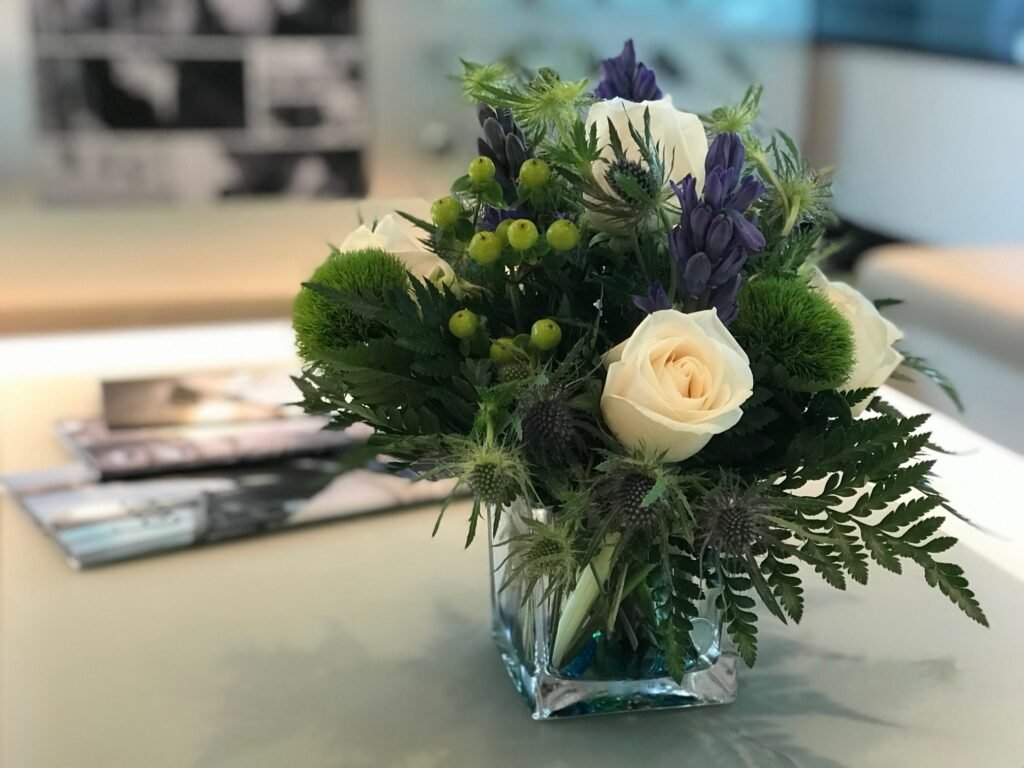 Recently, we started delivering weekly arrangements to a local business. Every Monday we rotate the old arrangements out and replace them with new arrangements. We provide two smaller arrangements that sit on coffee tables in waiting areas, and we provide a larger arrangement for the counter in their coffee/beverage area. It's amazing how much the flowers brighten up the office, and after reading various studies on the effect flowers have on people, I also think it's a great strategic move on the part of the business! Flowers have a positive effect on the mood, energy level, and productivity of everyone in the office!
Boost Productivity
A behavioral research study conducted by Nancy Etcoff, Ph.D., of Massachusetts General Hospital and Harvard Medical School found that "study participants who lived with fresh cut flowers for less than a week felt an increase in feelings of compassion and kindness for others. Overall, people in the study simply felt less negative after being around flowers… The study found that people were more likely to feel happier and have more enthusiasm and energy at work." Adding to these findings, a Texas A&M study found "that a change as simple as adding flowers and plants can be important in the most meaningful way to businesses in the modern economy… People's productivity, in the form of innovation and creative problem solving, improved – which in certain circumstances could mean the difference between mild and great business success. During the study, both women and men demonstrated more innovative thinking, generating more ideas and original solutions to problems in the office environment that included flowers and plants."
What's not to love about flowers?
For me, I've been working with computers since I was in high school using the first generation of Peachtree Software in the early 80's. Although managing the flower shop still involves a computer, I just love this latest chapter in my life–learning about flowers and designing arrangements. One of the best parts, happens on a day that is grey and rainy and my mood is not much brighter; I come into the shop and find gorgeous ranunculus, or peonies fully blooming, or see stargazer lilies bursting in color. I defy you to stay glum once you step into Fantasy Floral! Now that means you have to come visit us!