When Will Stimulus Checks Be Deposited?
(And other random musings during quarantine.) As you all know, we actually aren't totally quarantined. Fantasy Floral is still open and delivering–no contact deliveries and curbside pick-ups with sterilized vases. It's just Trevor and I at the shop now, and we live under the same roof. It's a good thing for our safety as it allows us to social distance. Because there's no interaction with co-workers and customers, it's also a quiet thing. I have a lot of time to muse about things like, "When will stimulus checks be deposited?" or "I wonder what I should plant in my garden this year."
Turn the TV Off
It's not that I really need to know when stimulus checks will be deposited, it's just that it's all over the news! That has been my biggest take-away from this lockdown. It is time to turn the TV off. We are glued to the news, and that is not a healthy thing. 24 hour cable news has to find something to fill its airwaves with. We get bombarded with a lot of opinions because there are not enough actual news stories to fill a 24 hour period.
Plant a Garden
That brings me to my garden. Since I won't be watching much TV, I will actually have time to plant and take care of my garden! I'm excited about that. I had a great time browsing an online seed catalog last week. My go-to seed source has been the Southern Exposure Seed Exchange, but it seems everyone else must have had the same idea I did. They are so swamped with orders, they aren't accepting any new ones until they get caught up, but that's a good thing! It means there will be lots of gardens this year using sustainable heritage seeds. It also means Southern Exposure is thriving during the lockdown. For me, it meant I got to meet another cool sustainable seed company called Truelove Seeds. My seeds arrived on Saturday with a handwritten note from Owen. "Thank you Margie! Seeds and Solidarity, Owen."
If you have never bought seeds from a seed exchange, you should! One of the seeds I bought are for Pippin's Golden Honey Pepper. Why Pippin's? "Horace Pippin, the now-famed painter, shared this variety (and many others) with H. Ralph Weaver in the early 1940s in exchange for bee-sting therapy. Weaver's grandson (William Woys Weaver) found the seeds in a baby food jar in his grandmother's deep freezer a couple decades later, many years after his grandfather's death, and was able to reintroduce via Seed Savers Exchange." With a backstory like that, I can't wait to plant them and be part of this history. Yup! I'm in love with Truelove!
Write a Novel
I recently watched a TED Talk about trying something new for 30 days–The 30 Day Challenge. It was inspiring! The author, Matt Cutts, "went from desk-dwelling computer nerd to the kind of guy who bikes to work…for fun!" When I was a little girl, I dreamed of becoming a novelist who lived in Australia on a big ranch with lots of animals. I got the animal part! Cutts mentions that one of his 30 day challenges was to write a novel. I've never written a novel, but the extra free time that this lockdown is providing is the perfect time to become the novelist I've always wanted to be. Who cares if it's a good novel or even a published novel? I can accomplish one of my dreams.
Save the World…or at least a pangolin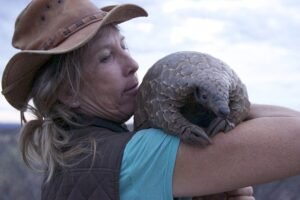 A good college friend of mine, Maria Diekmann, started an animal sanctuary in Namibia many years ago called Rare and Endangered Species Trust (REST). Someone brought her a mama and baby pangolin that were rescued from poachers. Mama was too traumatized from the abuse of traffickers and fled, but she had protected her baby so well that Honey Bun survived and thrived under Maria's care. That was when I first learned about pangolins, how highly trafficked they are, and thus how endangered they are. They are often described as the most trafficked animal you've never heard of. That has all changed thanks to the coronavirus. Pangolins and bats have been linked to this coronavirus' origin.
Many are hoping this will lead to crackdowns on the sale of pangolins at wet markets and hopefully bring them back from the edge of extinction. When will stimulus checks be deposited? I'm not sure. If you are looking for something to do with it though, there are lots of organizations like Maria's that would grateful for the help!
What's Next?
I know I'm not the only one that has been forced to reassess life and priorities. We all want to get to the other side of this as soon as possible. In the meantime, we have learned to slow down. Spend time with our children. Zoom and Facetime with our parents and grandparents. We have time to plant gardens and go for walks and write novels. My hope is that we take the lessons we are learning with us to that other side.