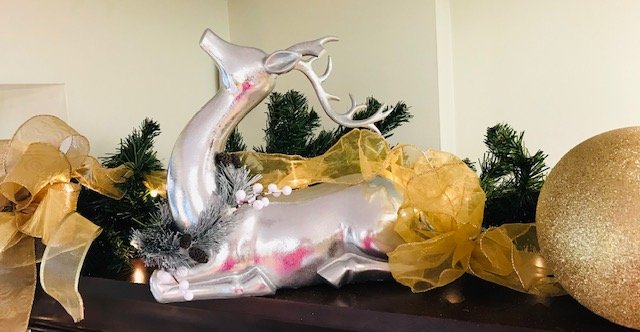 Decorations and Displays
Recently, I've been playing a lot of Animal Crossing: New Horizons. Specifically, I've fallen in love with the Happy Home Paradise DLC which allows you to design vacation homes for most of the characters in the game. When Aurora the penguin asked me to design "a florist's flower shop" for her, I saw only one possible route: Why not recreate the decorations and displays of Fantasy Floral in the game?
I did my best to recreate all the little details as faithfully as I could. Though I had to take some artistic liberties, I got pretty close, right down to the coffee machine in the corner and our Alexa in the back. The only thing I wasn't able to make was the big display in the center of our shop. I puzzled over it for hours before settling on a large display of lilies and other white flowers. I realized something when I headed into the shop the next day. I couldn't recreate the center display exactly because it's constantly changing with the seasons! Our most recent display was this lovely Christmas scene, but we're swiftly preparing for the red and pink of Valentine's Day.
As the seasons and holidays change, our supply of decorations comes in handy. We'll revamp the window display, the center display, and the smaller accents around the shop. I love going through everything we have and seeing what to use. I find something new every time I go through our boxes! My favorite season to decorate for is spring. We have lots of adorable little animals that go well with the pastel colors of the season. Every time we decorate, the goal is to make our shop as inviting and unique as possible, down to the smallest touches.
Whether it's tinsel and evergreens for winter, pink and red hearts for Valentine's Day, or multicolored eggs for Easter, there's always something beautiful to find at Fantasy Floral. Stop into the shop one of these days. You'll never see the same decorations and displays twice!