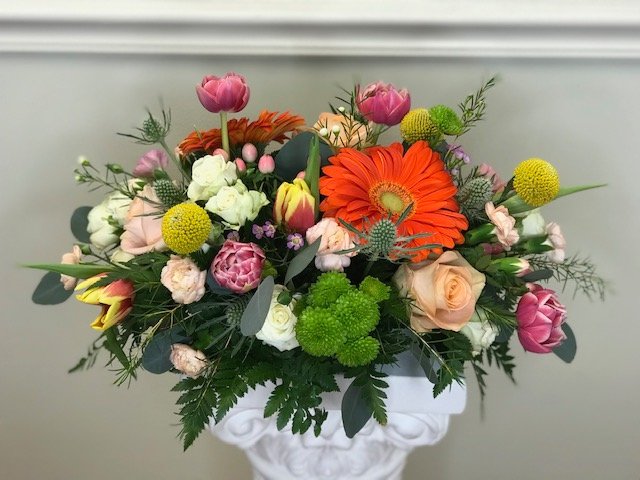 Easter Flowers
Most people think the big spring holiday for flowers is Mother's Day, and they're completely right! But Easter is also a great holiday for flowers! Here are just a few ways to incorporate flowers into your Easter celebration.
Centerpieces
If you're hosting Easter dinner or brunch, a centerpiece is a great way to liven up the table setting! The most important thing for a centerpiece is to allow your guests to see over it. For a rectangular table, something long and low would look lovely and complement the table shape. Or something low and circular for a round table. Alternatively, a short and compact arrangement in a vase is a great hostess gift because it could work both as a centerpiece and as an accent on a coffee or end table!
Corsages
If you're in the mood for something a little more traditional, Easter corsages for the ladies in your life may be for you! Fresh flowers are a great addition to any outfit, especially one as fancy as your Sunday best. Whether you're going to church or having a nice brunch with family, our designers will make sure that your corsages look as beautiful as the woman wearing them!
Easter Flowers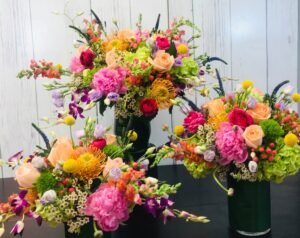 Spring is the season of flowers, and Easter brings some of the prettiest blooms to the table! I've written about seasonal spring flowers before, but some of our favorites for Easter specifically include tulips, hyacinths, and the ever-popular peony. Plus, thanks to our partnership with Old Dominion Flower Cooperative, we'll have more unique flowers like daffodils on a weekly basis! 
Easter Arrangements
This time of year, we get to experiment with fun additions to our regular designs! Baskets are a popular vessel for flowers in spring, and we have all kinds of lovely pastel baskets here at the shop. We also have little plastic eggs in all sorts of spring colors! If you're looking for a sweet addition to the holiday, one of our favorite arrangements this time of year is the whimsical Jelly Joy!
If you need any Easter flowers, just give us a call!