Nationwide Flower Shortage
It's something the flower industry has been dealing with since at least last fall. Mother's Day brought it home to the average American. There is a nationwide flower shortage caused partly by the pandemic and partly by climate change.
Low Demand
Last spring when the whole planet went into lock-down, florists all over the world closed. Additionally, events that use flowers such as weddings and corporate events were cancelled. Dutch flower growers destroyed their flowers by the millions because demand evaporated overnight.
Demand for flowers since last spring continued to be lukewarm until this spring when the vaccine has allowed many countries remove COVID restrictions. Here in the US, not only are florists opening back up for business, families are getting together again to celebrate Mother's Day. The demand increased so quickly, farmers have not been able to keep up.
Worker Shortage
South America is one of the biggest suppliers of the world's flowers. As COVID cases in the US drop, COVID cases in South America surge. This is having a huge effect on the availability of workers to plant and harvest flower crops.
Extreme Weather
Climate change is causing extreme weather around the world. Severe droughts and record rains are diminishing and/or destroying flower crops. These weather events have added to the already low supply of flowers.
Transportation Issues
When the world-wide lock-down first occurred, we experienced supply chain issues because passenger airlines no longer flew so cargo space was limited. Throughout the year, more and more consumers placed online orders which increased the need for cargo space. Currently, the need to replenish inventory as stores open back up adds to the transportation demand. Finally, the Ever Given became a funny meme as it blocked the Suez Canal, but the delay the blockage created will be felt for months. All of these events have led to a nationwide flower shortage and shipments being delayed on a weekly basis. Sometimes the delays are so long the flowers are unusable when they finally arrive.
The Good News!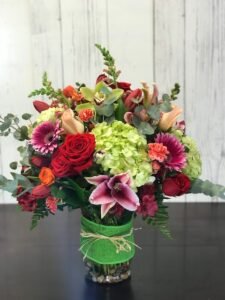 The wholesalers we work with have been incredible throughout this last year. They monitor their supply chains closely, anticipate potential delays, and forecast price increases. Because our wholesalers keep us updated regularly, we can order early and make informed choices.
Our wholesalers in turn have cultivated loyal relationships with their farms who have bent over backwards to fulfill orders. We have been so blessed to continue to provide the quality and variety of flowers our customers expect from us. Occasionally we have to make substitutions either because we don't feel the quality is up to our standards, or a flower shipment was delayed. We always call our customers to discuss options. As I reflect on Mother's Day after hearing stories from other florists around the country, I feel blessed and am grateful for the wholesalers and farms in our network. Most of them are also family owned and operated. Despite the nationwide flower shortage, we all work together as one big floral family to provide vases full of joy.