A Day in the Life of a Flower Shop Worker
Hi! My name is Casey, and I'm a relatively new worker at Fantasy Floral. I started in January to help out with Valentine's Day but loved it so much that I kept coming back! I do a little bit of everything here; answering phones, cleaning flowers, and making deliveries are all part of my job every week. I've even made an arrangement once! There's never a dull moment in a day in the life of a flower shop worker, and there's so many reasons why working here is so wonderful.
So Much Color
One of my favorite things in the world is color; my pencil case is filled with pens of every color under the sun! One of the first things that stood out to me when I started working here was just how colorful everything is. Even now that I've been here for a few months, I still find myself wowed by especially colorful arrangements like No Clouds in the Sky and Sunny Shine. It's not just the flowers; the shop's decor is vibrant, bright, and fun! I never have to worry about my mood drooping at work; all of the color in the shop always puts a smile on my face.
Letting My Creativity Flow
In addition to working at Fantasy Floral, I'm also a musician; last year, I graduated with a degree in Music Theory & Composition from Westminster Choir College. One might think that working "outside my field" might put a damper on my creative spirit, but it's actually quite the opposite! There's lots of opportunities for me to exercise my artistic and aesthetic senses here at the shop; one of my favorite things to do here is decorate! Finding new ways to make the shop look beautiful is just as satisfying as writing a beautiful sonata.
Upbeat, Fun Energy
No matter if the shop is dead quiet or wildly hectic, there's always positivity and excitement to be found here! All of my coworkers are wonderful people, and even if we're all stressed out, there's never any uncomfortable tension. And even though I definitely count myself as an introvert, the energy in the shop encourages me to open up and show my chatty side! Plus, our Alexa is always playing music; if you come into the shop one day, you might just see me dancing!
Learning New Things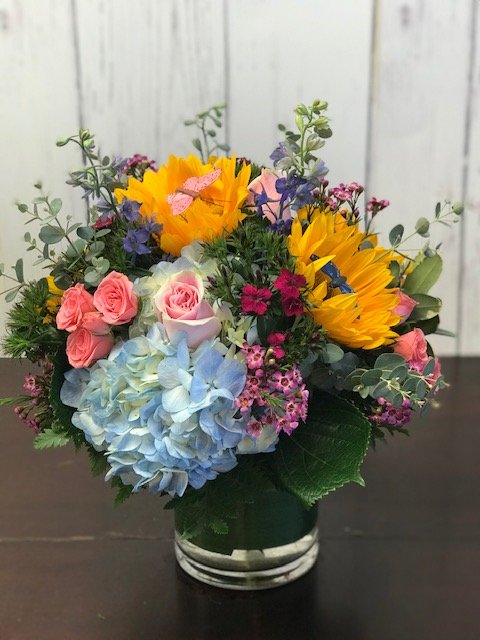 When I started working at the shop, I knew next to nothing about flowers except for the fact that I liked them! For the first couple of weeks, it felt like every sentence out of my mouth was, "What kind of flower is that?" Every day I came in, I would learn the name of a different flower, and by now, I've gotten pretty good at recognizing all the different kinds! Nobody's perfect, though; I still have a little scrapbook in my journal of several common flowers and their names. Just in case!
New Appreciation
Looking back on my senior voice recital program this past year, I realized that many of the pieces I sang mentioned flowers at least once. Heck, I even sang a whole song about a rose! Now that I'm around flowers for most of my week, I have a new understanding of just why all of those composers wrote about flowers so much. I've sung those words hundreds of times, but now that I've spent so much time around the flowers, the language has new meaning. Each day in the shop instills a new appreciation for the beauty around me. 
Making People Smile
Without a doubt, the best part of a day in the life of a flower shop worker at Fantasy Floral is making people happy. Whether I'm on the phone with a pleasantly surprised recipient who didn't know they were getting flowers, handing a beautiful arrangement to a customer on a delivery run, or even greeting someone at the shop and seeing their eyes light up at the decor, a smile on someone's face is the most beautiful sight in the world. Seeing other people happy is extremely fulfilling to me; it's what drew me to music, and it's what now draws me to flowers !