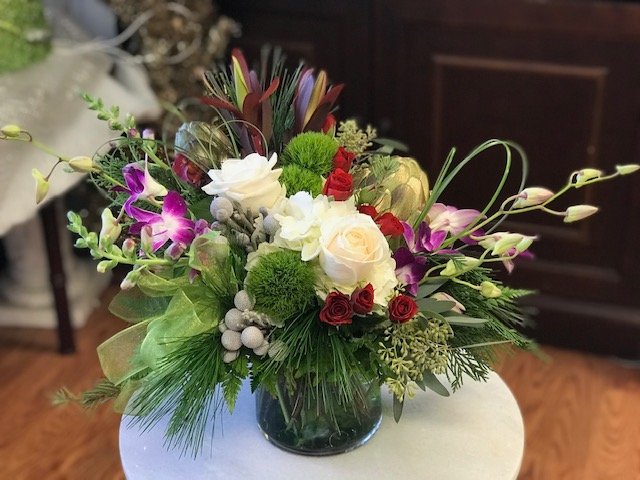 A Season of Reflection
The holiday season is stressful for many people, myself included. Not only am I busy here at Fantasy Floral, but I'm also a classical musician. The moment December hits, I'm buried in holiday music. So much piles up this season, whether it's getting gifts for friends and family, planning the perfect holiday dinner, or trying to finish up that last little bit of work before you finally get a break. But sometimes, a moment of peace finds its way into the hustle and bustle. It's in these moments that I like to reflect on the past year and contemplate the new one. Setting goals for myself for the coming year helps me clear my head of the clamor of the holidays and center myself for what's coming next. Today, I'm hoping to walk you through my process, and maybe I'll inspire you to think a little bit about the next year as well!
I've never been the type to make New Years' Resolutions. If I do, I always start strong on January 1st…and fall flat on January 2nd. So instead, I've started thinking about my goals more abstractly, in a wider sense that can be applied to almost everything with ease. I'm able to meet the goals I set because the end result is flexible and open to interpretation.
I also try to use the last year as a jumping off point; if a certain thing went well for me this year, it's a way to congratulate myself and keep doing that thing well.  For example, this year, I've let my creativity and sensibility as an artist grow thanks to learning how to design flower arrangements. I want to keep that creativity up in the new year, so my goal will be to do as many artistic and creative things as I can, whenever I get the opportunity to do so.
Above all, though, I find it important to think about the impact I want to make on the world around me. This year has shown me that more than anything, a simple act of kindness can turn someone's day around. This morning, I was pulled over on the highway due to a minor fender bender, and I was freaking out a fair bit while on the phone with my mother. A gentleman pulled over and asked if there was anything I needed; even though I ended up turning him away, his patient smile and kind words were enough to settle my nerves and get the car moving.
This year, I want to be like that gentleman who pulled over for me. My biggest goal is to be kind, whenever and wherever the opportunity presents itself. I want to make sure that if there's someone in need of a friendly smile and some gentle words, I'll be able to give it to them. I hope that the year ahead is one of peace, and I hope that we all get a chance to give and receive some kindness.
Happy Holidays and a Happy New Year from all of us at Fantasy Floral!