Designer's Choice Arrangement
The secret our long-time customers have learned is that a Designer's Choice arrangement is the best way to go! Your loved one will receive a custom arrangement uniquely created with their preferences and personality in mind.
Do they have any favorite flowers or colors? We'll focus on those.
Are they more traditional or artistic? They'll know the arrangement was made just for them!
Are there any flowers that we should not include? Some are allergic to lilies.
Some recent requests have allowed Trevor and Kristi to work their creative magic!
Can you create an arrangement that will remind her of this painting?
I think Trevor nailed it!
Her favorite colors are yellow and orange.
Kristi incorporated happy sunflowers and springtime's gorgeous ranunculus.
She loves gerbera daisies and calla lilies!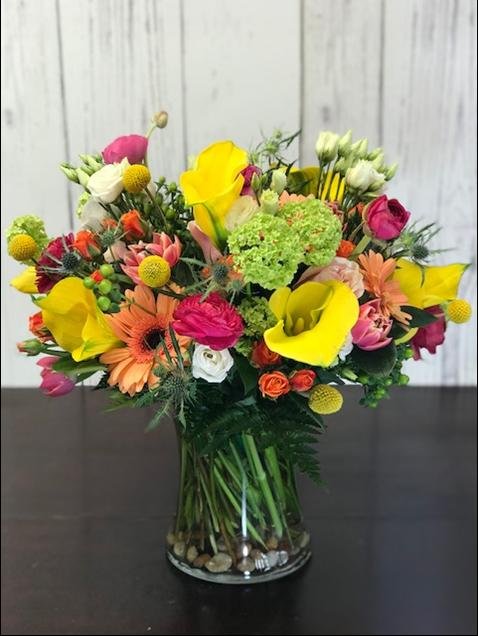 Kristi used a lot of fun spring flowers including peach gerbera daisies and bright yellow calla lilies.
We'd like a modern arrangement to greet customers as they come into our business.
Ti leaves create interesting planes while safari sunset adds depth and height. And who wouldn't love those fun yellow billy balls?
Just give us a call to order your own unique Designer's Choice arrangement! Or you can order an arrangement online. Just use the "Order Notes" field on the checkout page to specify colors, flowers, and styles that you'd like us to incorporate. We look forward to working with you!